Hoi An is located between the Thu Bon River and the coast of Vietnam and is one of my new favorite places. It's a UNESCO World Heritage site, most well known for the beautiful, lantern-lined streets of the Ancient Town that date back to the 15th century. After arriving, I also soon found out it is known for having an abundance of tailors that will create custom clothing for you at a fraction of what it costs you in the West.
I stayed at a quaint, quiet hostel Phuong Le Villa where I shared a cozy, triple bed dorm with surprisingly two other American girls, both named Tamara, who had also both burnt out and quit their jobs in the States in favor of seeing what lies far beyond the lands of corporate cubicles. We chatted forever like we were at a support group or a sleepover and it was very cathartic yet reassuring.
The next dark & rainy day, we and a pair of Aussie brothers participated in a Vietnamese cooking class, which lasted all morning and most of the afternoon. We started at a local market to buy the ingredients then we taken by boat past a water coconut farm to an open-air cooking venue. They were very accommodating to my vegetarian diet and altered the recipes and ingredients accordingly since most of the traditional dishes feature not just one, but two kinds of meat. I made four delicious courses including a spring roll, crispy pancake, noodle salad and the famous pho noodle soup.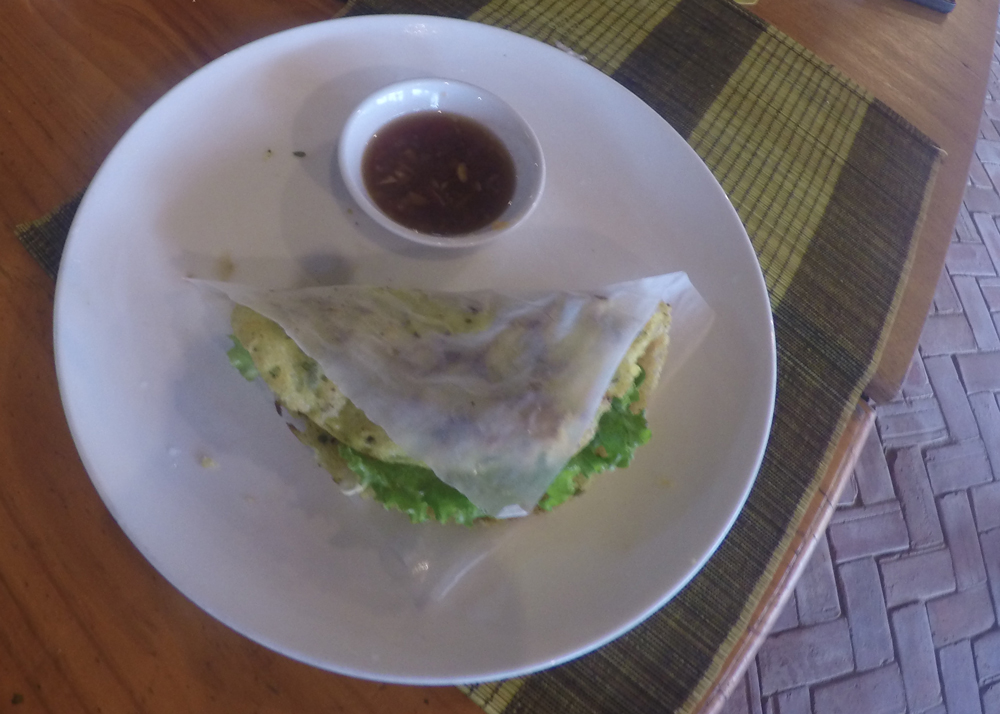 That evening, the girls and I explored the Ancient Town, for which you have to pay an entrance fee, but it's totally worth it. We basked in the glow of the lanterns and eventually found a lovely little eatery hidden in an alley. Later, I had tea and dessert with Tamara #1 and Tamara #2 went to a tailor shop to order a custom coat. Despite the drizzly weather, it was a wonderful evening.
The next day I ate my standard, free breakfast of baguette and eggs while chatting with a recent hostel arrival named Ian from South Africa. We decided to rent scooters and go on a quest to find Marble Mountain and the beach. The sky was still ominously gray and heavy with clouds but it only ever threatened to rain. There are actually a cluster of five mountains with significant marble & limestone deposits that are named for the five elements between Da Nang and Hoi An. Any time Ian and I stopped to check our map, we were almost immediately approached by someone via scooter who would offer to give us directions... to his or her tailor shop. This happened several times and we were even later intercepted on the highway as we were approaching the mountain by a woman who insisted we follow her and park our motorbikes at her shop. She said it was free but of course she would expect us to buy something from her shop afterwards.
Anyways, Ian and I hiked up stairs and climbed through caves and marveled at the intricate carvings and temples as well as the view from the summit. We ate a simple noodle-y lunch and of course took the obligatory walk around the shop. I got guilted into buying a jade bracelet on the lower end of the price spectrum. We meandered back to Hoi An, stopping at the beach and a rice paddy along the way. At this beach, I discovered round fishing boats, what a blue button jellyfish is and that flowers can grow in sand.
I spent the next morning doing yoga before walking around town to take some pictures since Murphy prevailed once again and the weather cleared up on my last day. There were people strolling, photographing, painting and couples riding bicycles everywhere. I had enough time for lunch before catching a shuttle to the airport in Da Nang where I would depart northward for my next adventure in Hanoi.