Is it just me or do all the cities in Vietnam start with H? (Ho Chi Minh City, Hoi An, Hanoi, Ha Long…) Anyways…
The day after arriving in Hanoi, I was picked up early in the morning and took a three hour bus journey to Ha Long Bay (translation: descending dragon bay) for a 2 day/1 night cruise. This was definitely my biggest splurge in Vietnam but totally worth it because the area is a unique Natural Wonder of the World and UNESCO World Heritage site. There are close to 2,000 limestone karsts and isles that jut out of the water like mountain peaks that have been swallowed by the sea. Kinda reminded me of the end of Waterworld.
There were several boats constructed to resemble the old junk boats with their distinctive, ridged sails, but I was a bit disappointed that the only time the sails were up was when they were docked in the bay whilst transferring tourists. My room was nice - all wood with an ocean view and my own bathroom with hot shower.
Each meal seemed to have a five course minimum and was pretty meat-heavy, but they gladly accommodated my vegetarian diet. It was a tasty blend of traditional Vietnamese dishes with some western supplements, but honestly it was too much. I had to find the balance between trying not to waste too much while still avoiding a full on food coma.
On day one, we set sail (figuratively) around 1 and cruised through the monolithic karsts for a few hours. Later we arrived at the Vung Vien Fishing Village where locals paddled small boats full of tourists past floating houses and bunches of boats. Later we had the option to paddle around ourselves in bright blue kayaks, so a new French friend and I spent about an hour exploring the karsts in the immediate vicinity of our boat. It was a bit of a challenge to find our specific boat again because they all kind of look the same as the government mandated that all the boats be painted white a few years ago. That night I opted to be a recluse and relax in my room with my book instead of participating in a "cooking class" to learn how to make spring rolls - again - and the subsequent happy hour and squid fishing.
Day two involved an early morning Tai Chi class on the top deck (which I supplemented afterwards with some of my own yoga), a buffet breakfast and a trip to Hang Sung Sot, known as Surprise Cave to the hoards of tourists that are herded through it daily. I was a bit disappointed at first because we were packed in like sardines in the first chamber but eventually spread out more in the later, larger chambers. It's the biggest cave I've ever seen and the spectrum of colored lights strategically located throughout the space really enhanced the ambiance. After that it was time to pack and we headed back to the dock to disembark. So it was more of a 24-hour cruise rather than 2 days.
A few notes on Halong cruises: You kind of get screwed as a solo traveler. They consider the rooms double occupancy so you get charged extra if you're by yourself. My boat charged $110 per person if you're a pair or couple but $160 if you're single. I also booked my trip online before I even got to Hanoi via the Hanoi to Halong website. However, once I arrived at my hostel in Hanoi, I found out that I could have booked cheaper, not to mention more last-minute, through them. It would have cost much less because they pair you up with other solo travelers if you book alone. I wouldn't exactly call it a regret, though, because I did like having my own room without mystery roommate who could have turned out to be awesome, but also could have been a nightmare and tainted my trip. Most of the boats and the itineraries seem to be pretty much the same.
Hanoi in Northern Vietnam is geographically the largest city in the country but has a slightly smaller population than Saigon (Ho Chi Minh City). It's still just as chaotic with traffic and you are still risking your life when you attempt to cross the street but overall I preferred Hanoi to its aforementioned, southern counterpart.
Perhaps it's because I really enjoyed my hostel and the immediate surroundings. I had my own private room with a big, comfy bed and bathroom at Golden Time Hostel for just $16 per night. It was next to a park, which was next to a large & lovely lake, around which was built most of the sites and social scene.
Upon the recommendation of my sister, I saw a water puppet show on my first night in town, which could alternatively be called Synchronized Marionette Swimming. It's a tradition that dates back to the 11th Century and there's a popular theater in Hanoi that still hosts several performances per day. They have live music and all kinds of puppets from people to dragons to birds, some with special effects like breathing fire or spitting water. All of the singing and speaking is in Vietnamese of course, but it seemed to be a combination of life and legends specific to the country. The puppets grow rice, row boats, catch fish and have a few comedic skits mixed in. This Wikipedia entry features pictures from and information about the actual show that I saw.
I spent a day walking around the city seeing museums. My first stop was the Vietnam National Museum of History which was a mix of interesting and 'meh.' My favorite exhibit explained the significance of sacred and mythical animals throughout Vietnam. This included relics and descriptions of 27 animals total including everything from elephants and tigers to dragons, phoenixes and garuda birds. Overall worth a quick visit. One other museum is included in the ticket price for this museum: The Museum of the Revolution, which I do not recommend. It's not very well executed and even though I was like literally the only person walking around their half-assed hallways, they kicked me out after about 30 minutes and said the museum was closed. They offered no further explanation so I can only assume it was a lunch break - or maybe the staff just wanted to go home.
I left and easily found a pedi-cab driver - the most eco-friendly form of transport in the city - who would drive me the 4 km length of the Guinness Book verified world's longest mosaic mural. The work began in 2007 and was created to celebrate the millennial anniversary of Hanoi in 2010.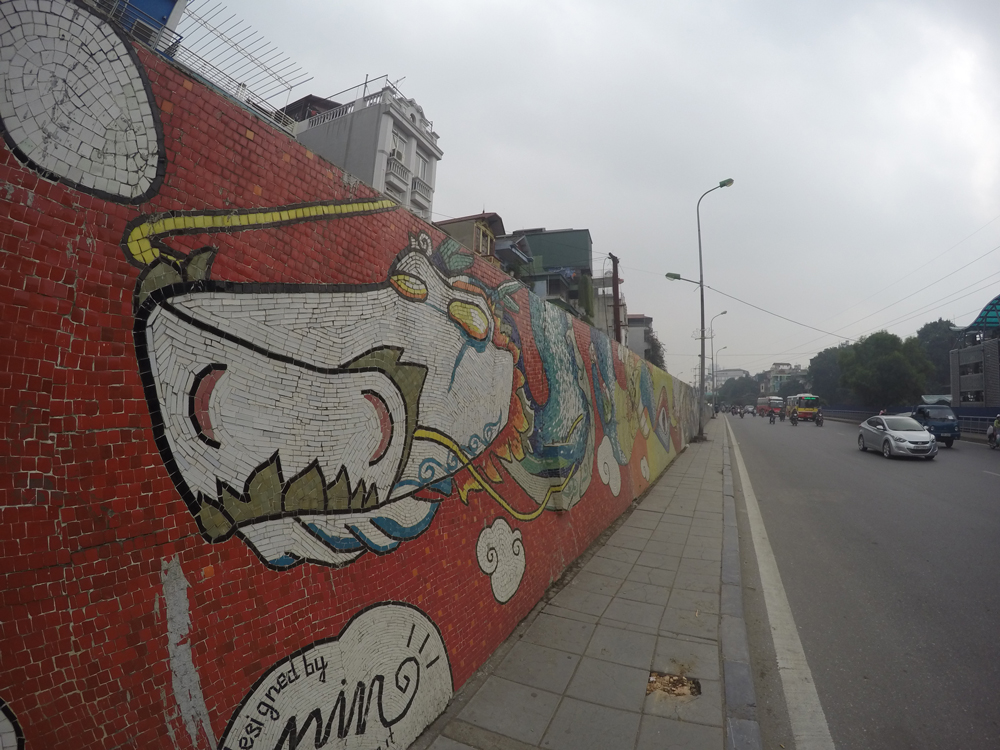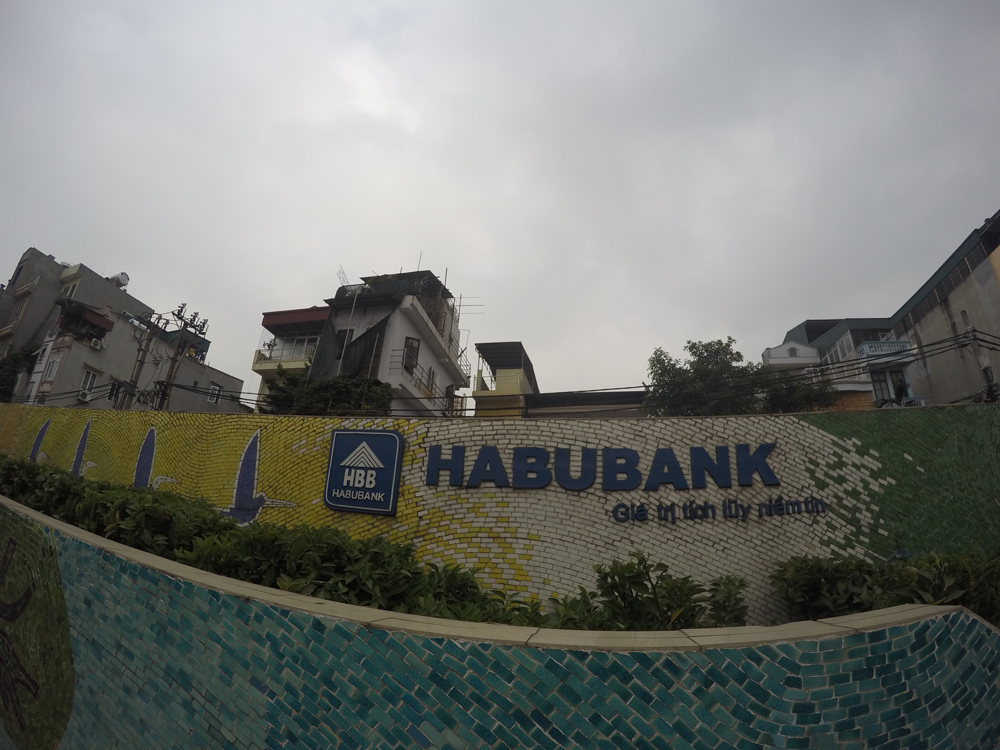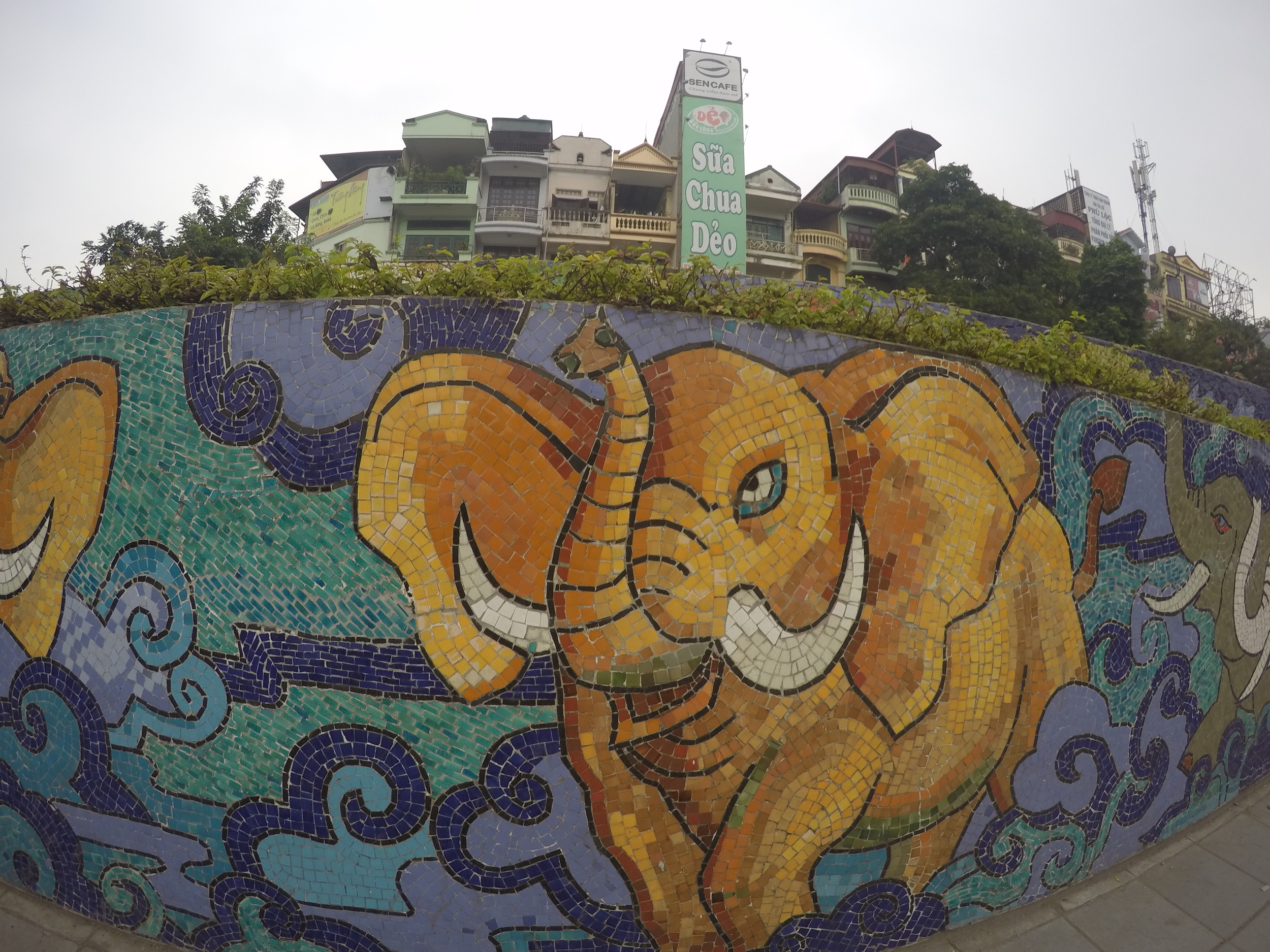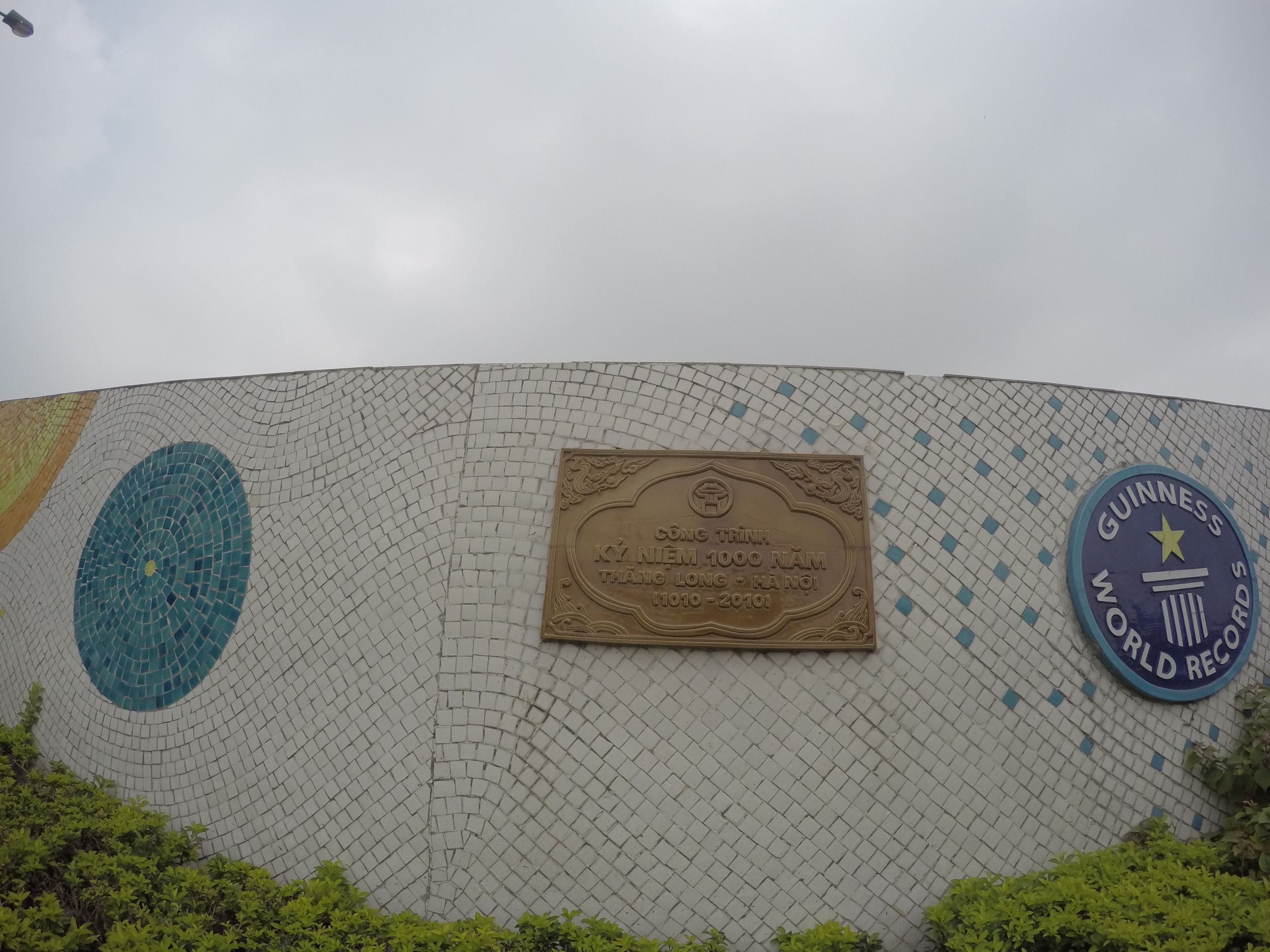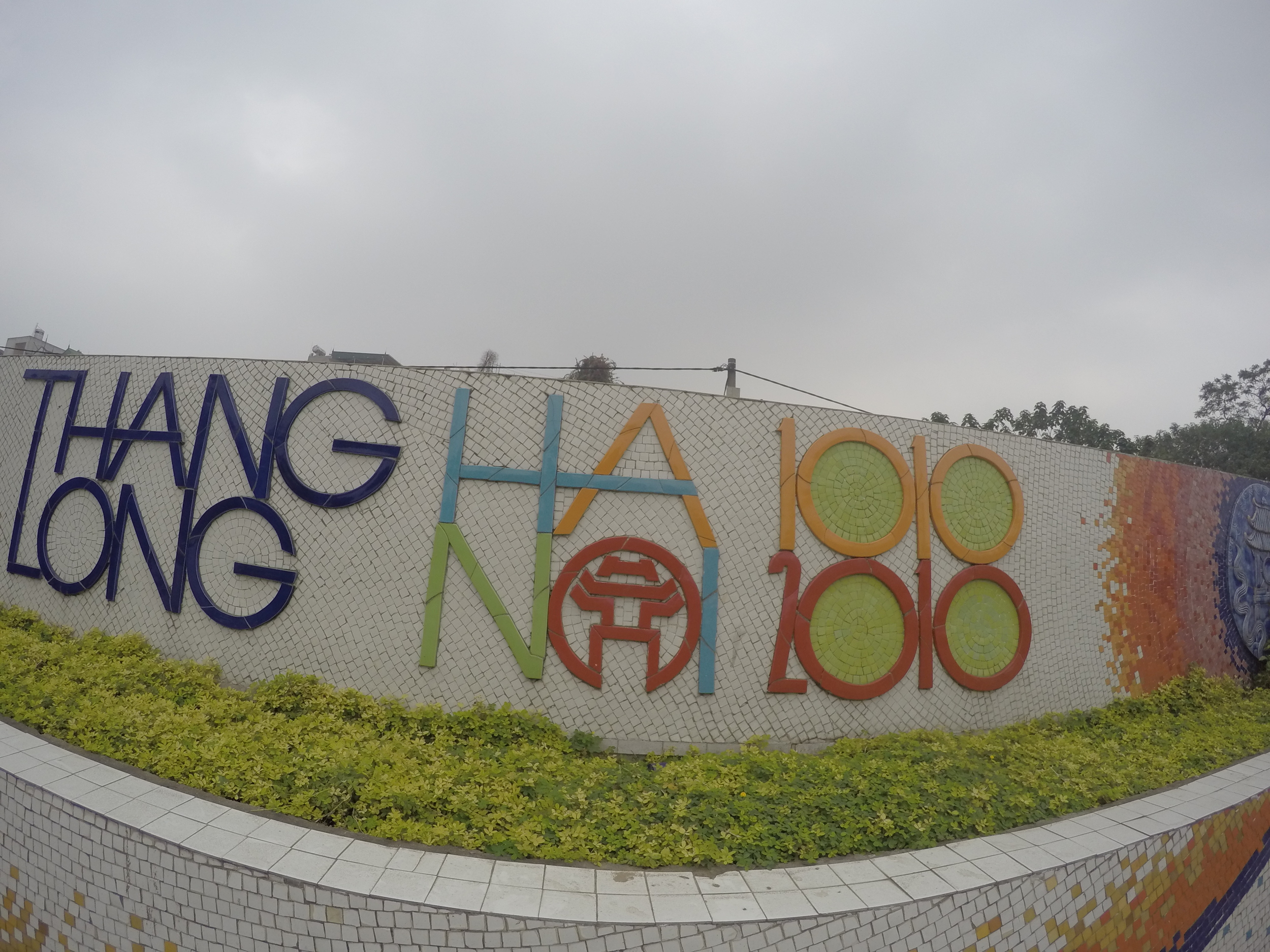 I find the idea of many different artists collaborating on a single mural project very communist but I found the corporate sponsorship to be decidedly capitalist. Still it's pretty impressive, albeit hard to enjoy safely since it's located along one of the busiest roads in the city. And how do the residents show their appreciation for this achievement? By literally pissing on it. I came upon a guy who I thought was admiring the wall as well, only to discover that he was relieving himself. Many other parts of the wall bear the same unmistakable stench of urine as well. Sad.
My last stop was the Women's Museum, which was fantastic and I highly recommend it. My only regret was not getting there earlier because I only had two hours to explore the multi-story museum. The museum has well-executed exhibits on traditional fashion, domestic and family culture and the women's significant involvement in the wars.
I really wanted to visit Sapa and see some natural beauty but I didn't have enough time so I instead opted for a day trip to Tam Coc which was much closer and easier to access. We saw a few old temples then toured the area by boat and bike. Locals paddled us in pairs through three natural caves created by the water and karsts similar to Ha Long Bay. And also tried relentlessly to sell us stuff, which was kind of annoying since we were literally a captive audience unless we jumped out of the canoes and swam away.
The bikes were a bit questionable but we proceeded with the tour anyways. The scenery was lovely and then I couldn't help but laugh uncontrollably when one of the pedals fell off of the bike that another lady on the tour was riding. Our guide ended up switching bikes with her and getting towed back to the base by another guy on our tour. Teamwork!