Seven of us boarded a public bus late Saturday morning. Our destination: Galle Fort which is located on the Southern tip of Sri Lanka several km below Ambalangoda. It was first built by the Portuguese in 1588 then was extensively fortified by the Dutch starting in 1649. But, it dates all the way back to 125-150 AD when it was a busy trading port used by Greece, China and several Arab nations. Today it's a UNESCO World Heritage site and a popular tourist destination.
It took us over an hour to get there since the bus stopped so many times but I was glad we had seats because the closer we got to the city, the more people had to stand in the aisle. We saw the massive stone walls from the bus station and once inside, it's a bustling little multicultural town with narrow streets lined with shops, hotels, restaurants, temples, mosques, churches and still maintains a lot of distinctive Dutch architecture. But don't come here expecting any bargains, like you'll find most other places in the country. The prices are pretty comparable to a mid-sized European city. You can drop a lot of dough here on a fancy hotel, fine dining and shopping if you want to.
Luckily, one of the girls in the group had already been to Galle and had already scoped out several places within our price range. We first walked around the perimeter of the Fort and took tons of pictures. Then we made our way in towards the town. We detoured to admire a Buddhist temple and then stopped at a small house where Lianne got a lovely Henna tattoo on her wrist from a talented, local lady who banged it out in less than 5 minutes.
We had planned to eat lunch after that at the Lucky Fort Restaurant which was hidden behind some tropical foliage, but it was still another 30 minutes before they were officially open. So we walked around a bit more to kill some time and stumbled upon the post office where I bought some more stamps, and then we discovered the Mecca of postcards, also known as Stick No Bills. I had an immediate design-gasm once I stepped inside and was surrounded by all the well-designed, vintage-inspired travel and movie posters/postcards scattered throughout the store. Even though they weren't cheap, I knew I would buy some and immediately regretted all the other postcards I'd purchased thus far in Sri Lanka.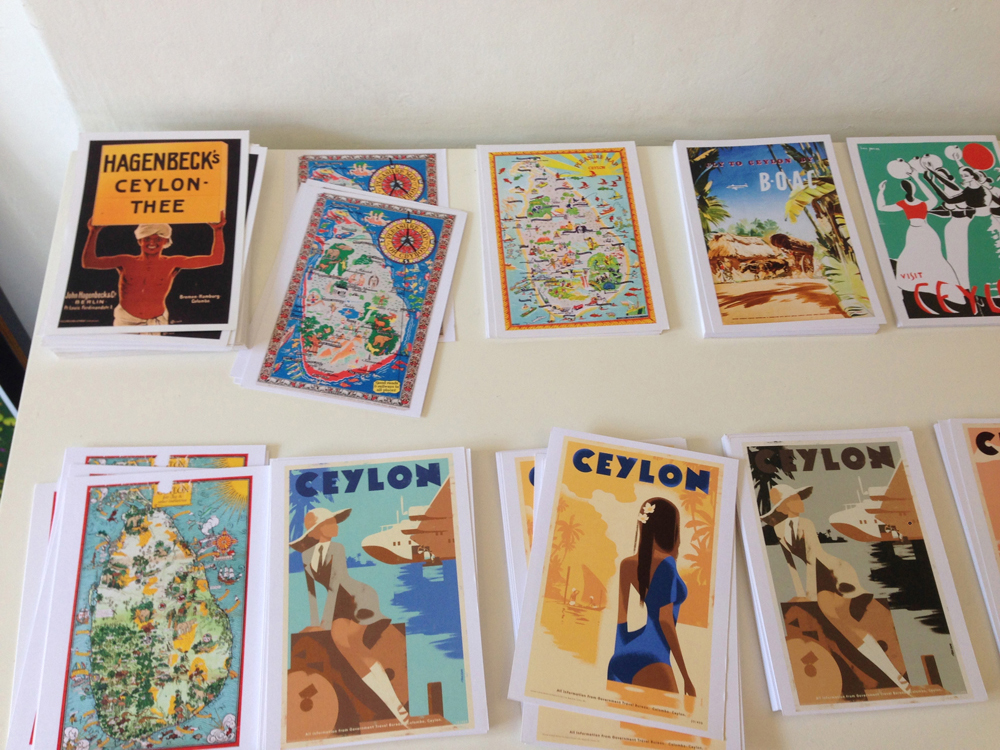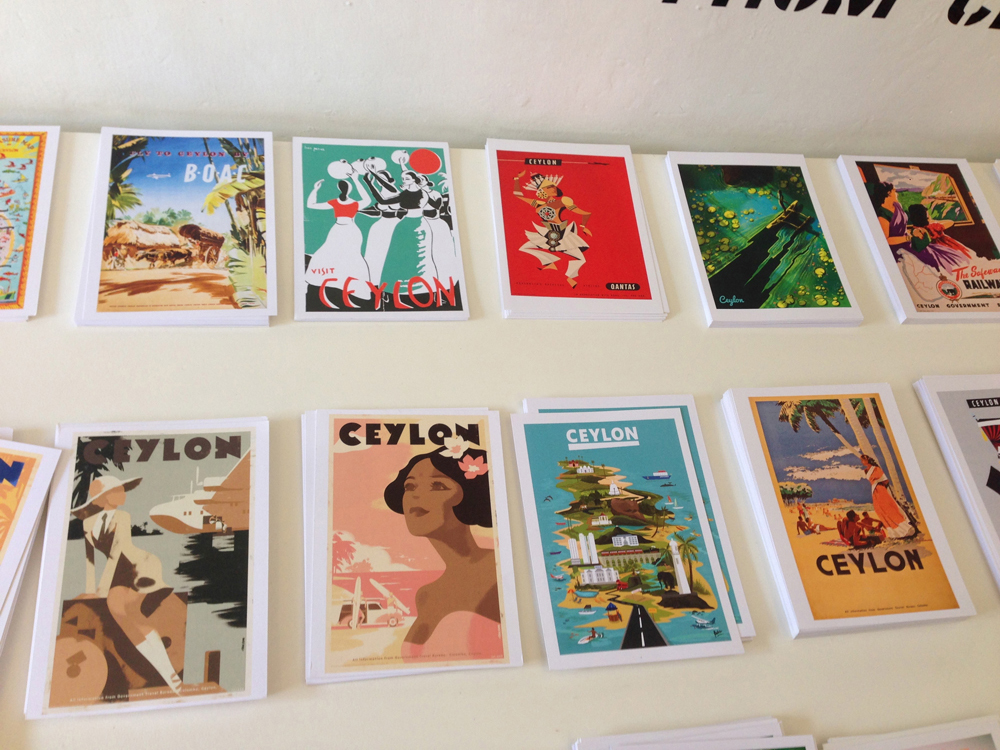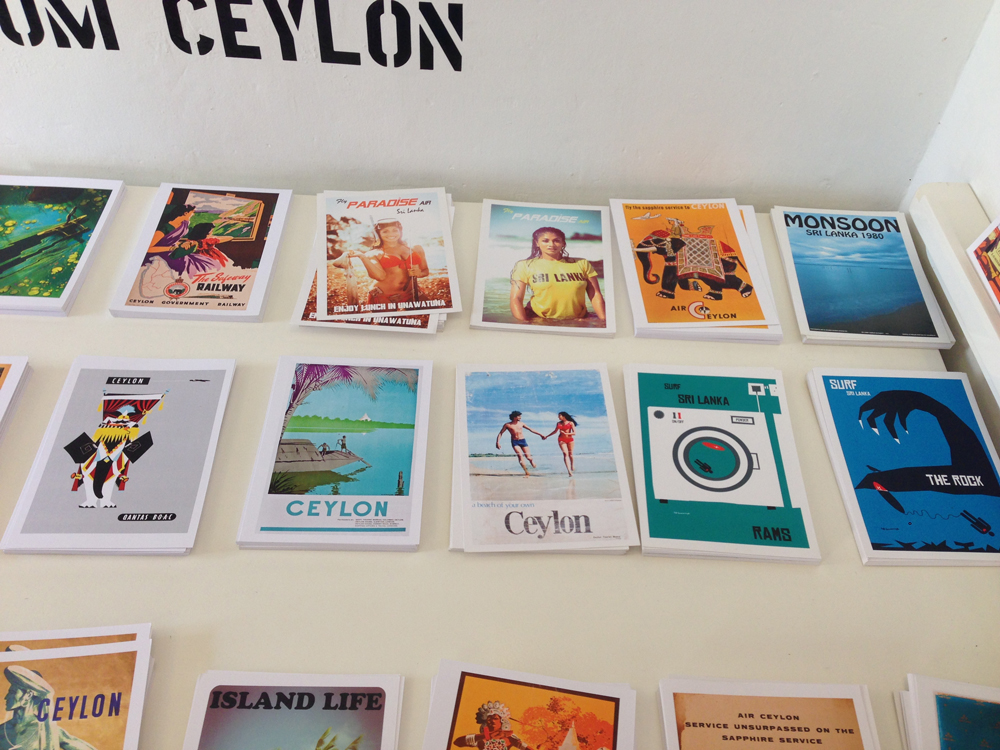 A poster cost 2,500 rupees ($18.68 USD), which included a bulletproof poster tube, and the postcards cost 350 ($2.61) rupees for one, 1,000 $7.47) rupees for 3 or 3,000 ($22.42 or $$2.24/ea) rupees for 10. I opted for the motherload and agonized over which ten I would pick. I took pictures of all the ones I bought as well as the ones I liked but didn't buy, which was nearly 80 photos total. This was the first place I've been able to use a credit card since I arrived in the country three weeks ago so I obliged. (I just hope Citi doesn't flag it as a fraudulent charge and freeze my account since my card has been idle for so long.)
We returned to the Lucky Fort Restaurant (which is ranked no. 2 out of 155 restaurants in Galle on Trip Advisor) and had to push a few smaller tables together to accommodate the group because the place was packed. Their special feature was rice and a selection of 10 curries (9 of which were vegetarian) for 950 rupees per couple ($7.10 USD or or $3.55 per person) including free refills of your favorites. Six of us ordered the special and the seventh ordered fried rice, so everything worked out pretty well. We passed the bowls around the table and ate family style. Here were the curries, in order of my most to least favorite: Pumpkin Curry, Pineapple Curry, Aubergine Curry, Dahl (Lentil) Curry, Fried Potato Curry, Cucumber Curry, Water Spinach Curry, Cabbage Curry, Snakeground Curry, Chicken Curry. With the exception of the last two which I didn't actually eat, this was the most amazing curry I've ever put in my mouth. This is how Sri Lankan food is supposed to taste, unlike the cheap, watered down food we are served at the beach house.
Feeling fat and happy, we were off again to burn a few more calories exploring the Fort and the shops. There are some really nice, trendy shops with clothes, jewellery and souvenirs on par with my Stick No Bills postcards, both in terms of design and price. One of my favorites was an eclectic shop called Zehan & Shazna Elite Boutique, which housed some super cute, hand-stitched clothes branded as Fort Lace. I seriously considered buying a dress but they were priced at about $40 USD and up and I feel like my rusksack is already full to the point of bursting the seams so I exercised all my willpower and resisted, although I really wanted to support this creative local business. There was another shop with a visual feast called The Three by tpv which reminded me of a hybrid between Anthropologie and West Elm.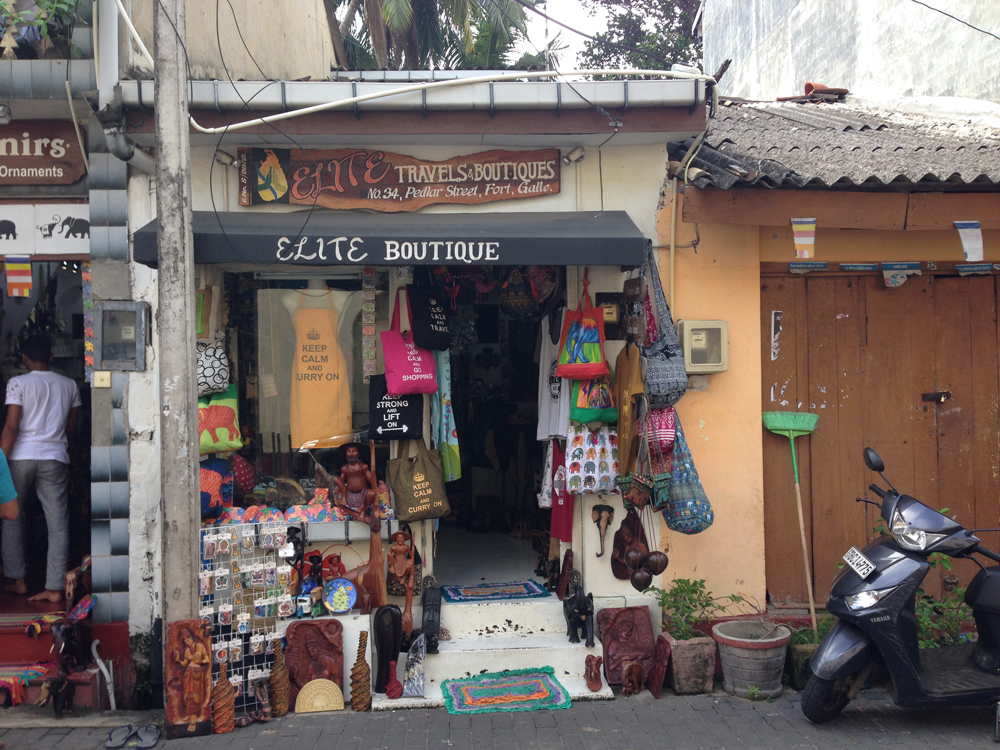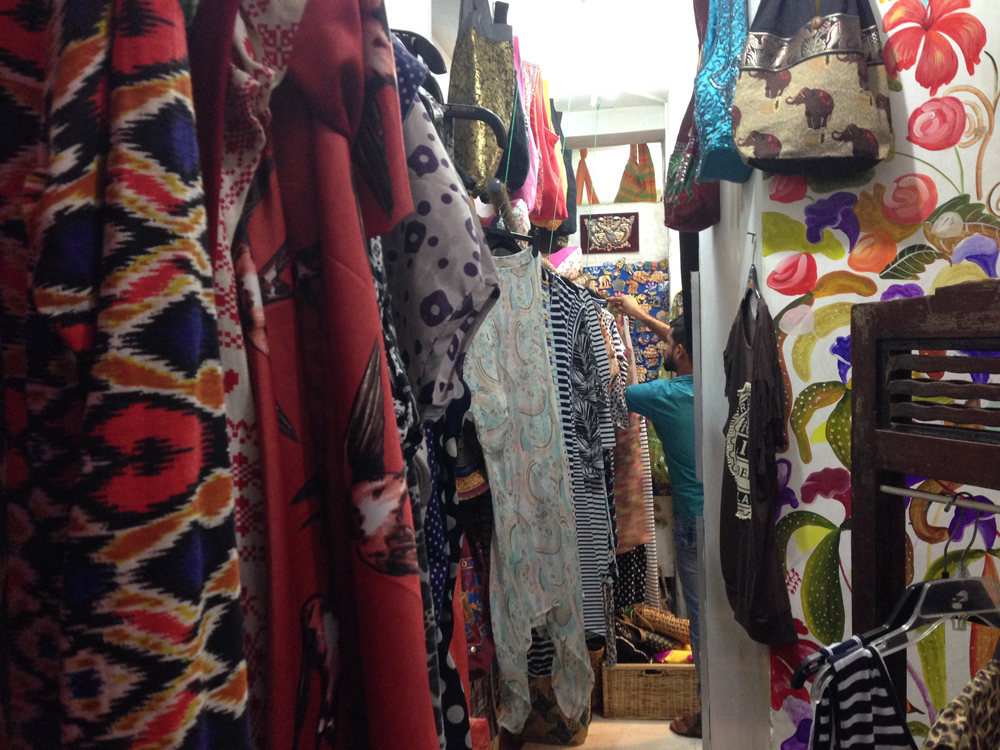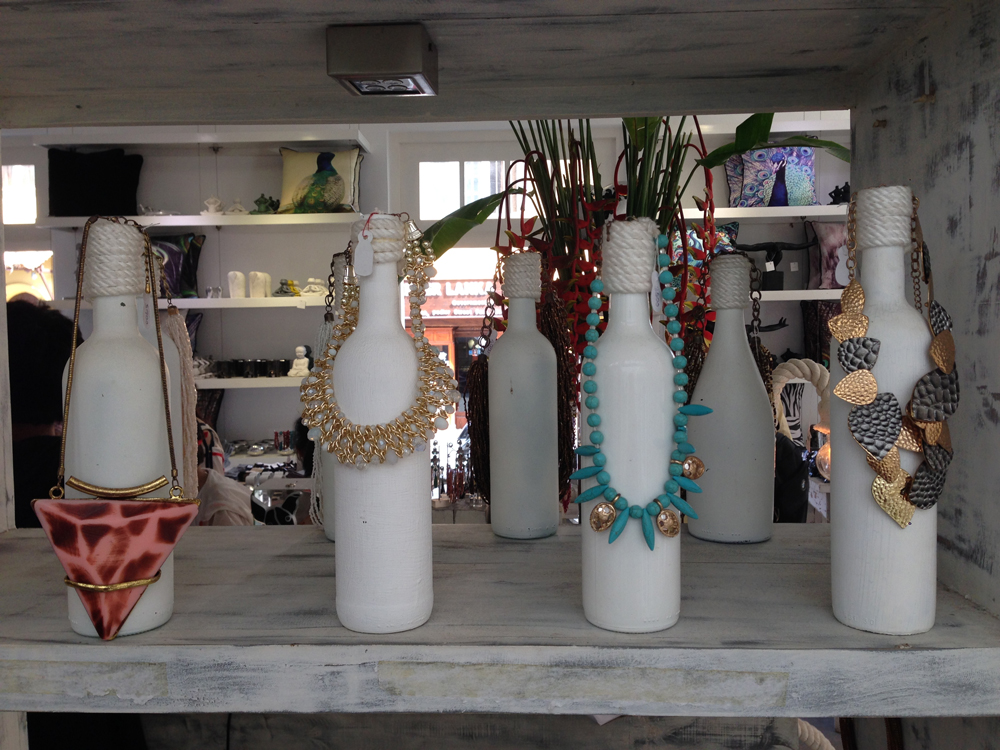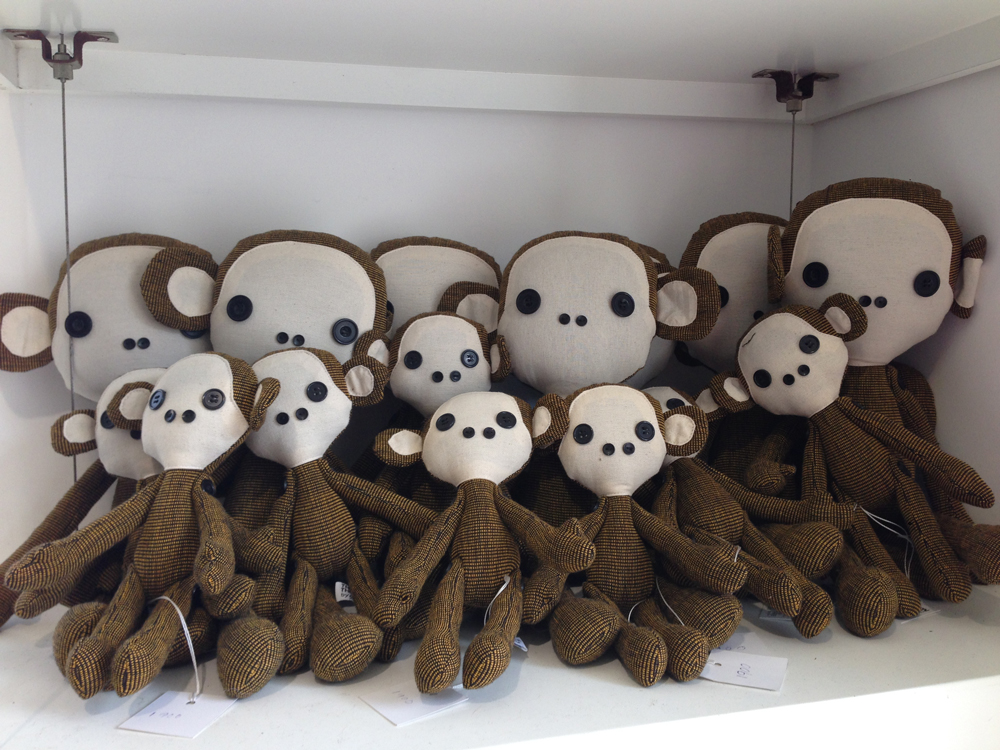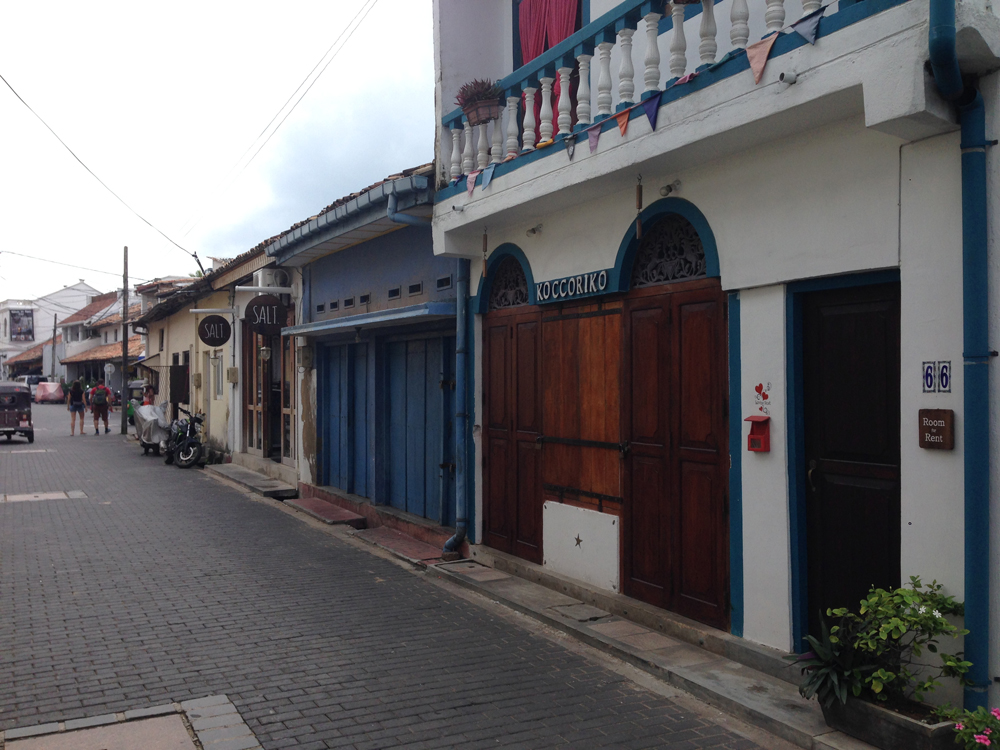 We were thoroughly exhausted around 5 PM so we headed back to the bus station. We thought we were getting on an Express bus that would take us back to Ambalangoda faster, and we snagged some of the last seats available. Mine was the first seat near the front entrance, which kept me from feeling claustrophobic at the cost of my physical safety. The bus already seemed to be at capacity when we left Galle, but somehow, more and more people sardine-d themselves on board. I had a variety of crotches, butts and oversized purses in my face throughout the trip. At first, there were some Sri Lankan music videos playing on the lone screen at the front of the bus, which I could see if I craned my neck the right way. They all seemed to be the same, somewhat depressing plot of a love triangle or unrequited love. Eventually they stopped, so I stared past the old man next to me who was enjoying a snooze with mouth agape, to stare at the waves that were racing us up the coastline. At one point, the driver slammed on the breaks, and I took (what I'm pretty sure was) an elbow to the cerebellum. It really hurt and I turned around to find the culprit, but no one apologized. The most likely candidate was a slightly douche-y-looking younger guy standing in the aisle right behind me, pre-occupied by his phone, who could be a Sri Lankan Bro, if there is such a thing. My toes also got stepped on several times and I narrowly escaped getting whacked in the head by the purses passing by, their owners oblivious to the pain they could potentially inflict.
I don't know if this bus was actually faster, but I was ecstatic to finally reach our destination and exit the bus, which was still bound for Colombo. Being packed onto public transport is just a necessary part of backpacking abroad, but I've never been more appreciative of my little Mirazda waiting for me in the driveway back home.
We went to the ATM and Food City (grocery store) and then back to the house for dinner. Since all the Dutch girls were leaving in the morning, we went to Hiro's Ice Cream parlor again for a final round of sundaes and banana splits.
The next morning, there were only four of us left in the house, with myself becoming the longest staying matriarch of sorts. That is, until the train from Kandy showed up around 11 AM and we were flooded with new arrivals. I already miss the amazing group of friends that I made last week.