So I seem to have developed a habit of automatically waking up at 5 AM. It happened again this morning so I headed down to the common area to use the free wifi. The night guy on duty asked if I had just woken up or just gotten back from partying, lol. I confirmed the former.
I ate a simple banana and granola bar breakfast in my room and left a little bit later to head to the Esplanade to watch the Ironman Cairns competition. The most ridiculous endurance athletes in the world compete in these races. I got to watch Sam Appleton cross the finish line in just under 4 hours to win the 70.3 race which consists of a 1.2 mile (1.9 km) swim, a 56 mile (90 km) ride, and a 13.1 mile (21.1 km) run. And that's just the half course!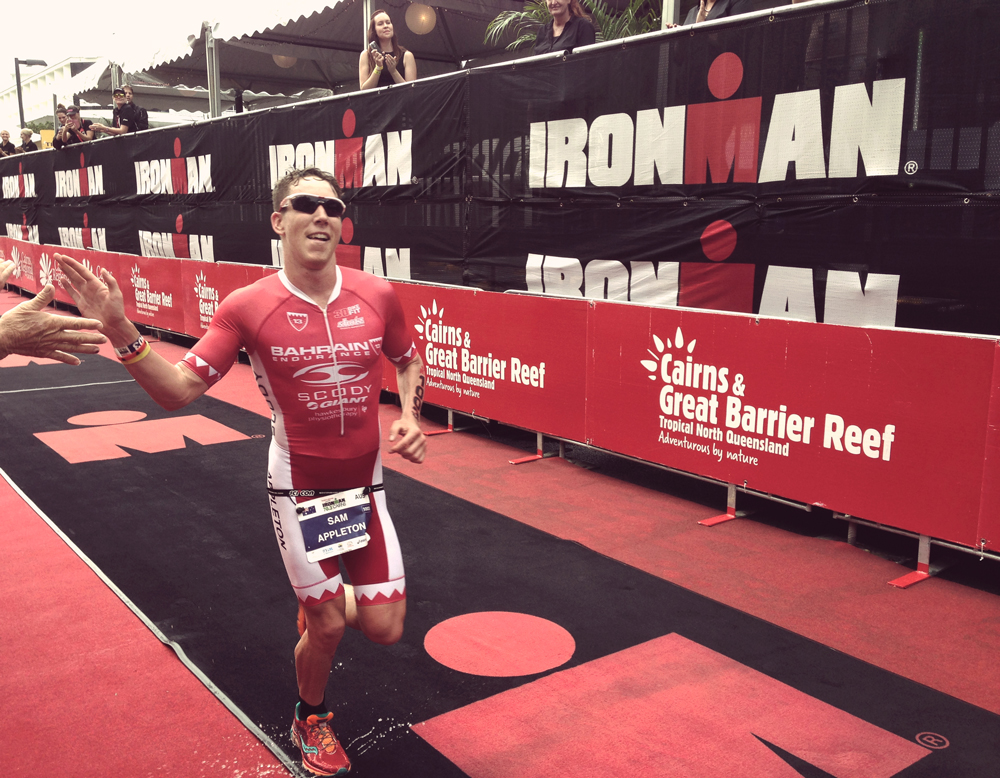 A full Ironman is a whopping 2.4 mile (3.9 km) swim, 112 mile (180.25 km) cycle and a marathon distance 26.2 mile (42.4 km) run. I got a small taste of this when I took up sprint distance (.47 mile/750 m swim + 12 mile/20 km ride + 3.1 mile/5 km run) triathlons a few years ago in Miami. Of course my races would just be leisurely warm ups for most of the men and women I witnessed swimming, cycling and running today.
The finish line was started to get crowded so I meandered off on a mission for lunch. The rain suddenly surged from sprinkling to soaking so I took shelter in the Cairns Regional Gallery of art which was only $5 ($3.40 USD) entry. The first floor held an eclectic collection of watercolor paintings. I looked at all of them but didn't love any of them. The second floor was more my style, titled Resolved: Journeys in Australian Design and displaying a collection of modern and minimalist design pieces. I particularly liked the colorful collection designed by Marc Harrison called Husque which incorporated crushed macadamia shells (which would otherwise just be discarded at harvest) into resin and shaped into beautiful bowls and dishes.
The third and final floor featured works by an emerging Artist named Nickeema Williams. She did beautiful charcoal portraits of several family members in addition to a few color photographs that honestly reminded me of instagram. When I exited the museum (through the gift shop of course) the rain was back to sporadic sprinkles.
I found a food court on the way back to Calypso and got to break in my reusable bamboo chopsticks on some Thai food that was just a tad too oily. Back at home base, I caught up on some writing and uploaded some pictures. I also looked up the definitions of 101 words that I didn't know and had underlined while reading the last three chapters of Walden. I wish I had been more acquainted with my homeboy HD Thoreau in high school because he uses a ton of vocabulary that you're likely to see on the SAT.
Anyways, that night the hostel hosted a BBQ where for $5 AUD you could eat barbecued crocodile and kangaroo. I had less than zero interest in this so I splurged and binged on Indian food at a nearby restaurant instead. I had naan, a mango lassi, basmati rice and Subzi Malai Balar; translation: mixed veggies in a creamy cashew sauce. I waddled back to my room and had to unbutton my pants to make room for the food baby I had just conceived.
Earlier in the day I told myself that I was going to do some yoga before bed tonight but if I attempt anything that involves inversion right now, I'm quite certain I'll see my dinner again. I need to at least find the energy to pack as tonight is my last night in my single room of solitude and I'll need to check out tomorrow as soon as I return from my early morning excursion.
Sidenote: I found this particularly amusing. In case you forget how to use a toilet, these helpful illustrations are posted throughout many of the public restrooms:
A few more pictures from around Cairns: